If you have never used a High Deductible Health Plan (HDHP) before, it may appear out of your comfort zone. Unfortunately, people often just see the higher deductible than the other plans and immediately dismiss it without looking further into the plan. The HDHP comes with a Health Savings Account (HSA) and boasts many benefits which may be a better plan for you and your family. 
What is a HDHP & HSA?
HDHP
A HDHP is a type of health plan that gives you more control of your health care expenses. It is designed primarily for people who are relatively healthy and don't plan to make many trips to the doctor's office besides basic preventive checkups. A person who chooses this type of plan will pay a lower premium than they would with the HRA or POS plans. However, since the premiums are lower, the deductible is higher than the other two plans. To help offset the higher deductible, this plan comes with an attached Health Savings Account (HSA) where you can contribute funds on a pre-tax basis to pay for your health expenses. Employees will also be eligible to receive cash contribution from Tulane pending completion of wellness activities.
Learn to save with the HDHP
Protect yourself with preventive care. Learn more about your health status and prevention by taking advantage of preventive care.  Preventive care is covered at 100% when you see an in-network provider. This means that services such as annual physical exams, immunizations, and screenings are provided at no cost.
Verify that your doctor is in-network. Before you receive care, verify that your health care provider is in-network by visiting www.myhealthtoolkitla.com   Visiting an in-network provider will help reduce your costs.
Ask your doctor about generic prescriptions. If you are prescribed a brand name drug, you understand how expensive prescriptions are today. Ask your doctor about switching to a generic. Generic drugs meet the same FDA standards, quality, strength, and purity as their brand-name counterpart and are available at a fraction of the cost.
Switch to mail-order prescriptions. Ordering maintenance prescriptions drugs through mail-order saves you a trip to the pharmacy and reduces your costs.
Highlights of a HDHP
You can use any doctor or hospital, but you'll pay less when you use in-network providers

In-network preventive care is covered at 100%

You do not need to select a primary care physician and do not need a referral to see a specialist

Once you reach the out-of-pocket maximum, the plan pays 100% of eligible expenses for the rest of the year

The plan comes with a Health Savings Account (HSA) to help pay for eligible expenses and your annual deductible if you choose to use it.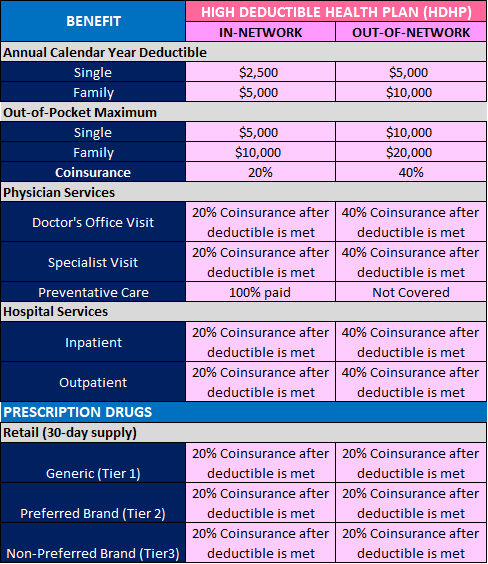 If you have questions about this plan, email the benefits team at tubenefits@tulane.edu.
HSA
An HSA is a tax-advantage account created for individuals who are covered under high-deductible health plans (HDHPs), intended to help people save for medical expenses that HDHPs do not cover. The funds in this account are triple-tax-advantaged since the money goes into the account tax-free, comes out tax free, and earns interest tax free. Contributions to this account are deducted from your paycheck on a pre-tax basis and available for use only when money is contributed. The funds will roll over from year to year and grow over time, unlike FSAs where the unused money you contribute expires at the end of plan year. Your HSA is yours to keep even if you retire or leave Tulane. The funds are available conveniently through a debit card as well.
Contributions

HSA vs. FSA
You cannot be enrolled in an HSA and Healthcare FSA at the same time, but you may enroll in the HSA and Dependent Care FSA simultaneously.
HealthEquity administers the HSAs and FSAs for Tulane. See the Page 11 of the 2023 Benefits Guide for the TU Health Account Comparison chart for a detailed comparison of each account type offered by Tulane. 
How Does a HDHP & HSA Function?
Health Plan Coverage - Preventive services are covered in full, while other services require employees to pay a deductible and coinsurance.
Employee Responsibility - Employees are responsible for paying the deductible up to a certain amount, as well as a percentage of cost, called coinsurance but are protected by an out-of-pocket maximum.
Funding Account - The employee funding account, which may be funded by the employee with tax-free dollars, Tulane, or both helps reduce out-of-pocket expenses for the employee.
Greater Control - Employees have more control over how their account dollars are spent with a wide range of qualified medical expenses (link).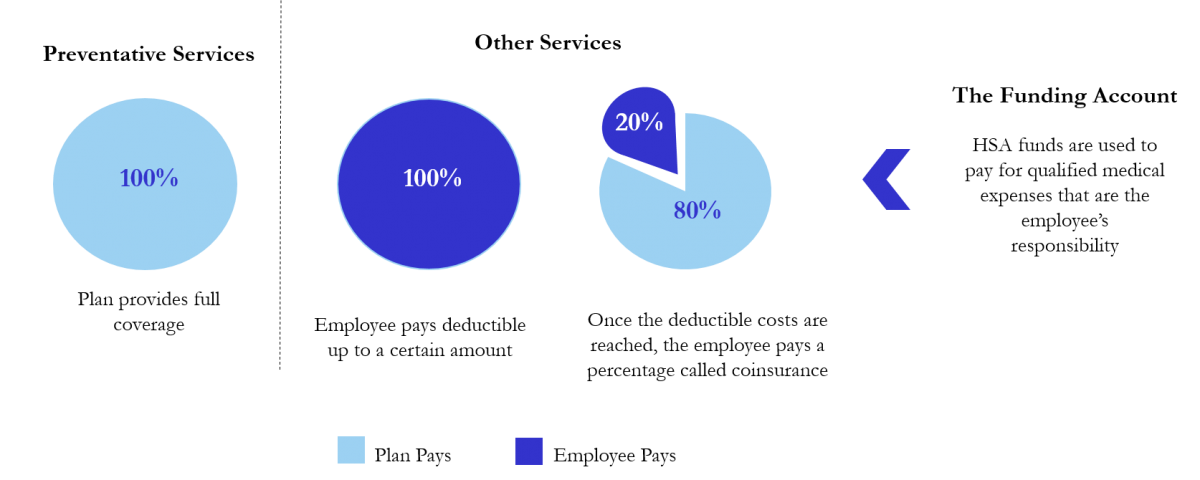 Think of your HSA as a personal savings account for your health care expenses, with some impressive tax advantages.
Paying for Care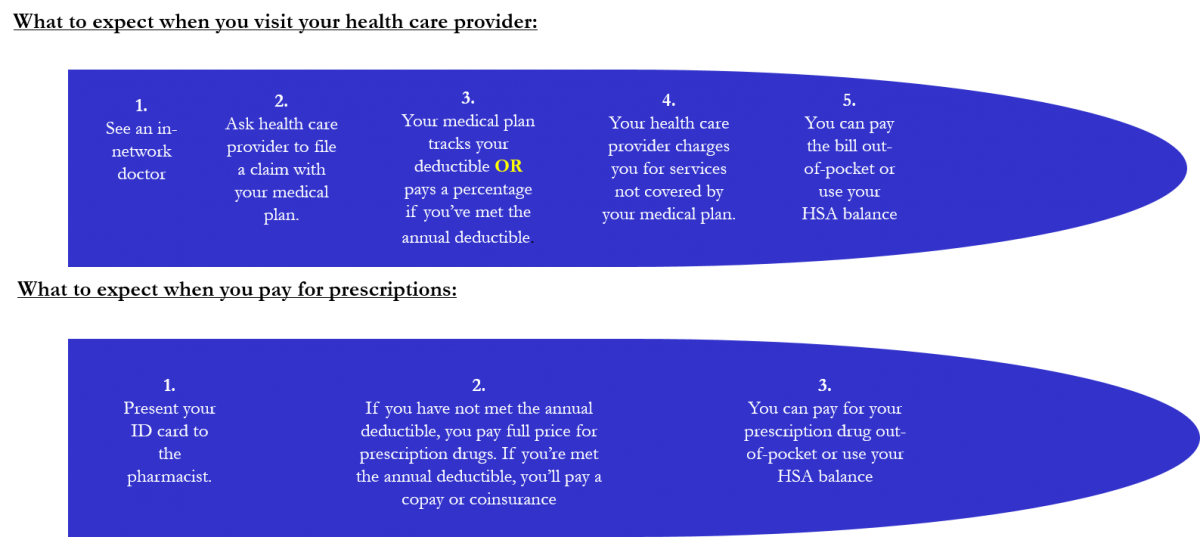 Note: If your visit is for preventive care, remind your health care provider to code the visit correctly so that you're not charged for care. Also, you can fill prescriptions at a pharmacy or by mail order.
Eligibility & Limitations
All benefits eligible employees can enroll in the HDHP & HSA but please be aware of the following:
No other Insurance Allowed Except "Permitted" Insurance
To prevent people from obtaining benefits of an HSA while protecting themselves with other health insurance plans, the law restricts the other coverage you may have. Listed below are some of the exceptions:


Auto and Life Insurance
Accident Insurance
Insurance for a specific disease or illness
Insurance that pays for a fixed amount per day for hospitalization
For full list visit www.irs.gov

You must be enrolled in the HDHP in order to open an HSA
You cannot be enrolled in both HSA and Healthcare FSA at the same time but, you can enroll in the Dependent Care FSA.
You cannot be a dependent on another's tax return and contribute to an HSA.
Cannot be covered by Medicare and enrolled into a HDHP.
Resources