Manager Development Program
What is the Manager Development Program?
The Management Development Program (MDP) is an investment in you. As a manager, you drive results that directly influence the success of the University and the communities we serve. The MDP is here to support your efforts. This is an opportunity to develop your skills, connect with peers from across the university, share challenges, and work together to find effective solutions.
Program Overview
The MDP is a development program that is designed to enhance and strengthen your management and leadership capabilities to ensure you have the skills, knowledge, and resources to effectively lead yourself and your team.
To accommodate busy schedules and provide you with the best learning experience possible, program content is offered in a blended format: online and in-person workshops.
The program consists of five modules: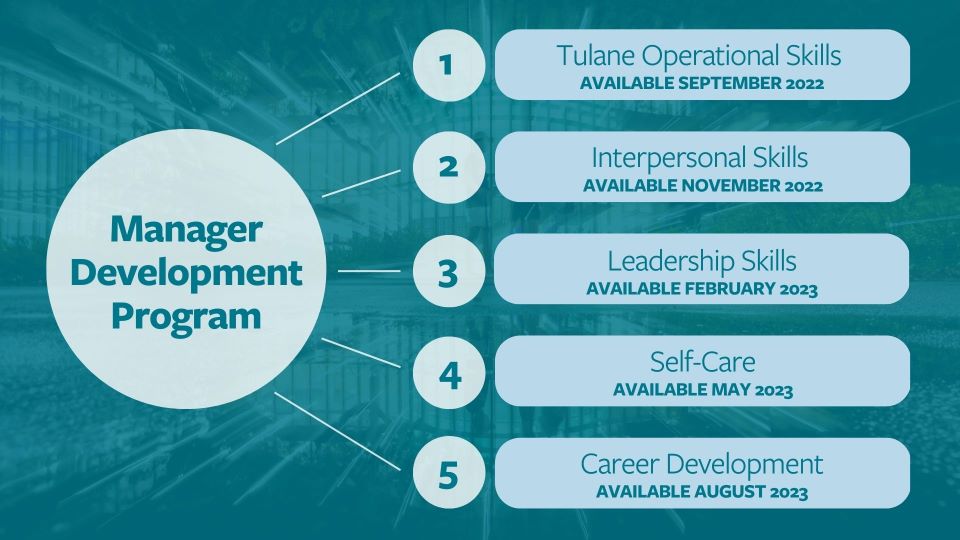 This program benefits supervisors and managers at Tulane in any of the following roles:
All current managers with supervisory responsibilities, including hiring, onboarding, and performance management
Any manager with at least one direct report
All newly promoted and newly hired supervisors and managers
Managers of Managers
Leaders of a division or functional area
The MDP provides participants with an opportunity to enhance existing skills and gain new ones. Additionally, participation in the program builds relationships with other supervisors and managers across the University.
The Manager Development Program is managed in our Learning Management System, TULearn. You can enroll in the Manager Development Program by clicking on this link and clicking the "Register" button.

Please note that the system may ask you to log in with your single sign-on information before registering. If after logging in you are not taken to the Manager Development Program registration page, please click on the above button again.

Please contact lodhr@tulane.edu with any questions about the program or content. For issues logging in, please contact the IT help desk at help@tulane.edu or 504-988-8888.
Please contact the Learning and Organizational Development team with any questions about the program or its content:
Learning & Organizational Development
1555 Poydras Ave, Suite 964
New Orleans, LA 70112
(504) 865-4748
lodhr@tulane.edu

Having technical difficulties or trouble logging in? Please contact the IT Help Desk for assistance:
Tulane IT Help Desk
(504) 988-8888
help@tulane.edu