Make way for an exceptional work-life experience! Tulane is committed to providing employees with high-quality, comprehensive benefits programs that meet the needs of our dedicated and diverse community.
2023 Benefits
Benefits-eligible employees and their families have access to benefits and resources, such as quality health care coverage, an employee wellness program, tuition assistance for continuing education and help in establishing your financial future. View our 2023 TU Benefits Guide to learn more.
Eligibility
For an employee to be eligible for benefits, they must be either a Regular-FT employee or a Regular-PT employee who is working 18.75 hours or more a week for seven months or longer. 
Learn Your Spending, Savings & Reimbursement Account Options 
Tulane offers Flexible Spending Accounts, Health Savings Accounts, and Health Reimbursement Accounts to help our employees save for eligible expenses throughout the year. To learn more about each account option, which plan it's available under, and how you can use them, visit Spending, Savings & Reimbursement Accounts. 
24/7 Access To Virtual Care With Tulane Telehealth
New in 2023, benefits-eligible employees and covered family members can now get on-demand care for many common conditions. Registration takes just a few minutes and gives you nationwide access to our network of expert providers. Visit hr.tulane.edu/TulaneTelehealth to learn more. 
More TU Employee Benefits & Perks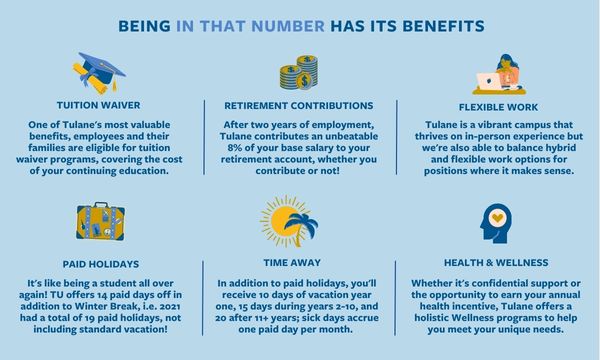 The information found on the HR/Benefits website is a brief summary of benefits provided and is subject to the terms and conditions of the detailed plan document that governs each individual benefit plan. For complete details of eligibility, definitions, benefits and guidelines, please refer to the appropriate plan document.
Click below to print and download your Tulane Benefits Reference Card. 

Compensation & Pay
Tulane University recognizes that competitive compensation is the cornerstone for recruiting, retaining, and motivating a diverse and qualified workforce. To this end, the University's compensation philosophy is to pay all categories of employees at competitive levels established by external labor markets, considering both salary and benefits as a total compensation package. To learn more about Tulane's compensation philosophy, visit the TU Compensation website.